I recently found this article on the web and found it to be a very interesting read. I can't believe how much it costs to build such unbelievable structures and transform them into world-class masterpieces. I hope you enjoy the read.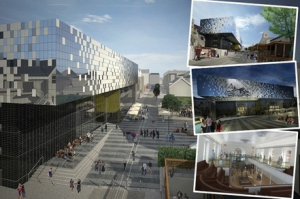 EXCLUSIVE: Striking new pictures released of Plymouth's £34million world-class attraction
Amazing images display how Plymouth's £34million state of the art attraction will appear in four years time have been issued.
The impressive plans show how Plymouth's Museum and Art Gallery will be transformed into a state-of-the-art history centre with world famous custom showcases, in time for the 2020 Mayflower celebrations.
Designed by architects Atkins, the centre will nestle behind the existing museum and art gallery frontage.
"We've got some of the best people out there working on this," said Council leader Tudor Evans, "and the concepts look incredibly exciting.
"They've come up with a really striking building and some of the interior spaces will be jaw-dropping."
The architectural plans feature a cantilevered 'floating' box with reflective cladding, which will form the heart of the impressive building.
Other existing buildings will be converted into interactive and fun exhibition spaces containing galleries that will include a giant mammoth, a flotilla of historic ships, massive original figureheads and interactive laminated maps that you can walk through.
Cllr Evans said: "This centre will be a complete game-changer for arts and culture in Plymouth. It will not only explore Plymouth's amazing history in new and exciting ways but it will also bring world-class arts and culture right to our doorstep."
The planning application is due to be considered in June this year, and the existing museum and art gallery will close in September.
Subject to permission, work will start early in 2017.
Earlier this year the project billed as the city's equivalent of London's Turbine Hall, was handed £4.2million from Arts Council England – propelling the project further forward.
The plans show how impressive exhibition and gallery spaces will be created to show off existing collections, as well as new flexible spaces that will host some of the best exhibitions from around the country.
The centre includes a space of 3,500 metres squared for galleries and exhibitions, this will include 11 temporary spaces (five for local and national touring exhibitions, six for specific projects), and 5 permanent galleries.
A major Mayflower exhibition will feature in one of the main galleries when the centre opens in time for Mayflower 400 in four years time.
"I can't imagine that there'll be anyone in Plymouth who won't be able to get excited about exploring it," added Cllr Evans.
"There'll be something for everyone whether they are bringing their kids for a fun day out, exploring their family history or visiting a top class art event.
"We'll have events and exhibitions right on our doorsteps that you'd currently have to travel hundreds of miles to see.
"It is also great for Plymouth and will create hundreds of jobs and boost the city's economy by increasing the number of day visitors to Plymouth and overnight stays."
Galleries will also celebrate and explore subjects such as Plymothians who have been influential on the world stage such as Drake and Scott of the Antarctic; the city's relationship with the Royal Navy; life in Plymouth below the waterline, including marine life and shipwrecks made from timber products; Plymouth's prehistoric landscape and the West Country's artistic legacy, including Sir Joshua Reynolds, the Cottonian collection and the Newlyn School of Artists.
There will be also multi-media spaces using the latest technology to enable people to explore the thousands of images and films that form part of the South West Image Bank and the South West Film and Television Archive.
The proposals will turn Tavistock Place into a public square – something it used to be before the current museum and library were built in the early part of the 20th century.
A pedestrianised piazza will provide a space for events and street entertainment and high-quality food outlets with plenty of street lighting making this an event not to be missed.
The council says this will enable the museum to include a refurbished St Luke's to be converted to a large art gallery with modular exhibition spaces that will open up Plymouth and the South West peninsula to major touring exhibitions.
Councillor Peter Smith, deputy leader, said the history centre is the "biggest and most exciting culture and heritage project" the South West has seen in the past decade.
"Plymouth has played an incredible role in the history of the region," he said, "and the world and this is something we need to shout about.
"But it's not just about attracting visitors to spend money in the city. This will be an incredible resource for our residents, our schools, local historians. We are working with our partners to create somewhere people can learn, research and feel a sense of pride in Plymouth, as well as just have fun."